| | |
| --- | --- |
| | |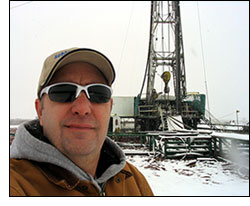 Jeff D. Griffin has over 20 years experience in exploration geology, exploitation geology and oil and gas production. His multi-faceted industry experience in all phases of exploration, drilling and production processes gives him a unique perspective on exploratory efforts.

For the past 8 years Mr. Griffin has served the industry as a petroleum geologist / oil and gas consultant. Areas of activity in Texas include the Bend Arch, Eastern Shelf, Permian Basin, Ft. Worth Basin, Gulf Coast onshore and Panhandle of Texas. Consulting efforts in Oklahoma have been in the Golden Triangle and Sooner Trend. In addition to performing prospect/property review and generation, log and lease analysis, mapping both manually and digitally, he has also installed a secondary recovery project (waterflood) including facility design and installation, re-entries, drilling, wellsite geology, and completion of all wells.

From 1997 to 1999, Mr. Griffin was also on a retained status with Pittencrieff America, Inc. (PAI). Under this retainer, he serviced PAI geological needs, as well as, collaborated properties between PAI and King Ranch Energy. Combined digital mapping efforts with King Ranch geotechnical staff resulted in numerous drilled wells and the collaboration generated two 3D seismic shoots.

Previous to his independent efforts, Mr. Griffin served Mustang Oil & Gas Corporation initially supervising production operations and performing geology for the North Texas area. Eventually he was named the Mid Continent Divisionís Exploitation Geologist for North Texas and the Texas Panhandle.

After graduating with a Bachelor of Science degree in Geology from Hardin-Simmons University Mr. Griffin worked for Jim Walker, a Consulting Petroleum Geologist, and then as the lone geologist for three independent oil and gas companies: Vinson Energy, Griffin Resources and Wagman Petroleum. Drilling was predominately in the Bend Arch and Eastern Shelf with efforts under Wagman Petroleum being one of the first companies to introduce horizontal drilling technology in the Eastern Shelf area. Additional drilling efforts expanded the limits of the prolific Ft. Chadbourne Odom Lime Field in Coke and Runnels County, Texas resulting in the further drilling of over 50 wells.